The history of the African safari
The word safari derives from the Swahili word for 'journey', and in colonial times, the implication was that big game would be hunted, shot, and then arduously lugged overland by a small army of local tribespeople. US president Teddy Roosevelt popularised the concept in the United States, when he embarked on a safari of enormous proportions, ostensibly with the aim of filling the Smithsonian Institute with African specimens. 11,400 Animals fell to the party's rifles, of which 512 were 'big game' – elephants, lions, leopards, buffalo, hippos and rhino, including six white rhino – rare even at the time.
We'll talk more about hunting further down the page, but right now lets just state clearly that African Budget Safaris absolutely does not sell hunting trips, nor do we endorse hunting for sport. This, in our opinion, is a primitive pastime from a colonial era that the vast majority of Africa has already moved on from.
Evolution of the Safari
Today the negative hunting connotations of the word 'safari' are being rapidly replaced by more modern associations with socially and environmentally responsible travel. Safari travel in contemporary Africa typically implies that the journey will include game viewing and some time spent in wilderness areas (game reserves and national parks). A traditional African safari is usually focussed on seeing Africa's wildlife, but safaris are definitely not limited to game viewing.
The Modern Safari – Proudly Responsible
A safari still involves wildlife, but other than that the term has been re-purposed to mean something entirely new. Safaris are now for admiring wildlife and birds in the wild, along with a host of other adventures.
Safaris have largely developed into holiday trips that actually benefit the wildlife of Africa, by supporting local conservation efforts and wildlife sanctuaries. As opposed to hunting the animals, visitors get to encounter them and help make a difference in protecting the species. Safari companies either actively contribute towards conservation projects or help generate tourism revenue which is used to manage wildlife projects and game reserves.
Safari tourists on a game drive in Tanzania's Northern Safari Circuit –
Eco-tourism is a burgeoning industry seeing a broad shift towards low impact development and environmentally friendly safari travel. Safaris often stay at eco-lodges, where the ecological footprint is kept at to a minimum.
The modern safari is also a socially responsible journey designed to interact ethically with local communities and have a positive impact on local economies. The cultural interactions offered by reputable safari operators do not exploit local people. The local communities benefit from sustainable tourism through employment and financial gains from selling goods and services (dance performances, guided trips and resource management etc). Some safari companies directly support social upliftment projects whilst others make use of lodges, reserves and other establishments that assist local communities.
What African Safaris Are About:
In addition to game viewing and wildlife tracking, safaris are about:
experiencing the local cultures of Africa
exploring scenic places and natural wonders
visiting historical highlights and sightseeing
participating in adventure and outdoor activities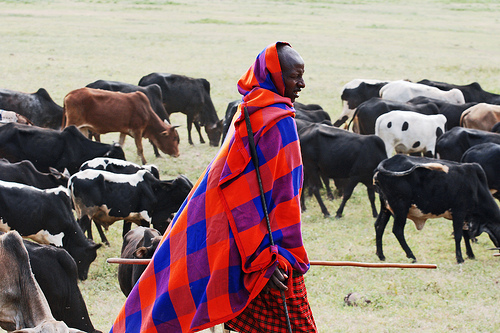 Most African safaris are overland trips, which means that they travel between destinations by road. This isn't always the case as fly-in safaris are an option, along with canoeing, hiking, sailing and various other specialist safaris.
Origins of the Word – Etymology of Safari
The English word 'safari' originates from the late 19th century according to the Online Etymology Dictionary.
First Arabic: The term originally comes from the Arabic word safara, meaning 'a journey' which was first used as a foreign word in the English language in 1858.
Then Swahili: The Arabic word found its way to East Africa where it was adapted to the Swahili verb kusafiri which means 'to travel' and the noun safari.
And then English: The Swahili word was first used in the English language in 1860 as a foreign word and then attested in dictionaries in 1890 as an English word. The legendary British explorer, Sir Richard Francis Burton is credited for introducing the word safari to the English language.
Forget the old concept of a safari as a hunting trip – that outdated usage is history! In the modern sense of a safari:
"…its usage is ubiquitous when referring to going for holiday (esp. overland travel in Africa)." – English Language & Usage Stack Exchange
Modern Hunting Safaris
Today, the word 'safari' invariably conjures up less bloodstained scenes, where the participants are more likely to be shooting pictures than bullets. However, hunting still exists in Africa as a bloodsport for foreign tourists. Generally speaking, it is a niche interest pursued by those with deep pockets and fragile egos. What kind of person travels thousands of miles to kill a beautiful wild animal found only in Africa?
Necessary Hunting vs. Canned Hunting
Sometimes hunting – or culling – is necessary, as a function of conservation, to control over-population of a certain species, but in many instances hunting is a sad and pathetic endeavour, particularly in the case of 'canned hunting', where the animal is transported to a small enclosure, and hunters pay huge prices to be driven within close range, where the animal, often disoriented and sometimes sedated, can be easily despatched prior to the obligatory photo opportunities. Afterwards, the carcass is usually shipped back to the tourist's home for display purposes, often at great expense.
Justifications for Hunting?
The African hunting industry has for many years pointed to the funds raised by hunting tourism, which purportedly is diverted to conservation efforts. Many hunting operations do involve the local community, with jobs, community funding and meat from hunted animals going to the local population. This has been said to deter poaching and is used as justification for the continuation of this basically outmoded and often environmentally questionable practice. However, more recently, some conservationists have come to question this justification, as well as exactly how valuable the industry is in this regard, especially when compared to vastly more popular wildlife viewing safaris. Very recently, Botswana banned trophy hunting outright, despite having been a major hunting safari destination up until that point and deriving considerable income from the practice.
Leopard crossing a jeep track with safari vehicle in background –
A modern safari is NOT a hunting trip.
Botswana's example is a clear indication of the way forward. Gone are the colonial days when a safari was an overland journey aimed at hunting wild animals! The traditional use of the word has changed, so out with the old ideas about a safari and in with the new and improved interpretation of a safari. Nowadays safaris are not about exploiting natural resources and trophy hunting for sport.
The term 'Big Five' was originally coined by big game hunters to refer to the most dangerous animals to hunt. Today, however, the Big Five of Africa are the top animals tourists want to see on safari. Out of the Big Five animals (lion, leopard, rhino, buffalo and elephant) only the buffalo is not threatened or endangered. Encountering these animals is now purely about the joy of observing them in their natural environment, learning about them and taking photographs.
Some dictionary definitions of safari still refer to the outmoded usage of the word:
"…an expedition to observe or hunt animals in their natural habitat, especially in East Africa."
"A trip into any undeveloped area to see, photograph or hunt wild animals in their own environment."
Today safaris are holiday trips aimed at seeing and photographing wildlife for fun.
Safari now refers to an adventure tour or expedition into the wilds of Africa – with no hunting involved. Safari travel often provides revenue for local conservation projects and game parks, supporting the protection of wildlife and habitats, rather than taking them out. Safaris also play an important role in creating awareness about wildlife conservation, as well as benefiting local communities.
A safari is not a trip reserved for khaki-clad bushwhackers and experienced field experts – just about anyone can enjoy a safari in the style that suits them best.
Safari Styles – Types of African Safaris
An endless variety of safari options are now available for travellers visiting Africa.
Face to face with one of the big 5 – an African Elephant staredown. –
There are a multitude of safaris to match any combination of parameters, taking into account budget, timeframe, activities and desired locations.
Budget Safaris – Travel on a Shoestring
As you can see from our website there are plenty of affordable safaris in all shapes and sizes out there.
Here are a few of the cheaper safari options:
Overland Safaris: The cheapest of the organised safaris are the camping ones that travel overland in medium to large groups. The cheapest of the accommodated safaris are also overland trips conducted in big safaris trucks with a medium to large sized group of people. The exclusive overland safaris tend to be a mix of camping and accommodated, falling in between the two in terms of price.
Budget Camping Safaris: The next tier up in terms of pricing is the budget camping safari, which is also designed for the budget traveller but generally runs with smaller groups and vehicles.
Exclusive Budget Safaris: A step up from camping, providing a mix of fixed and camping accommodation in or near game parks along the way.
Budget Lodge Safaris: Add some style and comfort to the affordable safari category, staying in lodges and tented camps within easy reach of the travel highlights.
Mobile Camping Safaris: Travel in a 4×4, moving camp from site to site and getting up close to nature. Camp at private and/or public campsites, shifting with the guides, staff and camping gear. These are generally quite unobtrusive safaris that have a low impact on the environment. The price of mobile tented safaris varies, depending on group size and whether they are fully serviced or require participation from clients.
There are also some mid-range safaris that stay at comfortable, yet not opulent lodges. These semi-luxury safaris don't include all the frills and finery of luxury safaris but do offer more personal service and superior lodgings for those who can spend a bit more on a safari.
Luxury Safaris – Travel in Style
The mildly to superbly snazzy safaris offer more comfort and exclusivity giving travellers some safari chic in the bush.
Here are a few ways to experience a luxury safari:
Tailor-made Safaris: Bespoke safaris sit at the top end of the pricing pyramid. These are luxurious trips tailored to meet the specific requirements of the discerning traveller. Clients can expect to be pampered and cared for every step of the way, exploring private game reserves while staying in up-market private lodges.
Luxury Safaris: These cushy safaris also make use of top-end lodges and hotels, but the itinerary is mapped out already. Clients pay more for the extra privacy, lavish facilities, exclusive game viewing activities and elegant accommodation. The ultimate luxury safaris include features such as spa treatments, private boat cruises, private dining in wild locations and so forth.
Lodge-based Safaris: Travel to one or several select lodges that serve as a base for exploring the game reserves. Game lodges on these safaris are located in or near the wildlife parks and range from the relatively affordable to the exorbitant. This type of safari generally includes transfers from the airport or nearby city, but not from one destination or lodge to the next.
Fly-in Safaris – Travel Direct
These safaris fly directly to the selected destination, or from one destination to another, skipping the bad roads and visiting otherwise inaccessible places. Fly-in safaris save time and offer the advantage of not having to endure the often rough roads of Africa. Flights are conducted in small planes which can only carry limited amounts of luggage, so be warned. Flying is a great way to get an overview of the wilderness areas and even spot game from above, but the fly-in safaris are usually more expensive. There are however some safaris that include land and air travel, only flying between certain stops, which makes them more affordable.
Safari Sizes – the Big, the Small, the Long and the Short
These days a safari can be anything from a little weekend getaway to one game reserve (or travel destination), to an epic cross-continental journey spanning several months and countries!
Both long and short safaris come in a range of group sizes, with the long, cheap safaris usually travelling in big groups. Smaller group safaris travel with around four to twelve people offering a more intimate bush experience with a higher price tag.
Specialist Safaris – Niche Travel in Africa
The list of specialist safaris you can choose from goes on and on…
Hiking & walking safaris
Photographic safaris
Birding safaris
Horseback safaris
Canoeing safaris
Big Five safaris
4×4 trail safaris
Gorilla trekking safaris
Wildlife tracking safaris
Culinary safaris
Whale watching safaris
Cultural safaris
Historical safaris
Family safaris
Eco safaris
Another marvellous development is that many safaris are family-friendly, catering for children too. There are safaris for families with children that specifically visit malaria-free areas suited to the young ones.
Safaris Now – in a Nutshell
The safari is earning a new reputation, shedding the callous old connotations and maturing into a responsible and benevolent style of travel in Africa.
Contemporary safaris have evolved into trips that encompass much more than the unforgettable experience of game viewing and staying in the bush. The 21st-century safari combines wildlife encounters with a variety of fascinating and exciting travel adventures – from city stays and cultural interactions to beach getaways.
'Take only photographs, leave only footprints' is an increasingly apt motto for the redefined African safari.
SOURCE: AFRICAN BUDGET SAFARIS